Kaye Monk-Morgan, Prairie Schooner Mates piped aboard for Riverfest 2023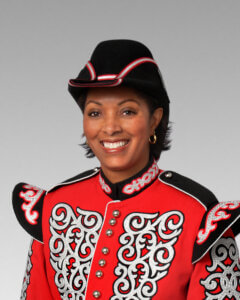 March 29, 2023 — WICHITA, Kan.— During a media event and piping-aboard ceremony today, Kaye Monk-Morgan was revealed as Admiral Windwagon Smith XLIX, ambassador of Riverfest 2023.
Monk-Morgan is the president and CEO of the Kansas Leadership Center (KLC), an internationally recognized center of excellence for leadership development and civic engagement. Monk-Morgan, who has a doctorate in educational leadership, has interest associated with women in leadership and first-generation student success. Her work at the KLC fosters civic leadership for stronger, healthier, and more prosperous communities in Kansas and beyond.
"The Riverfest crew is lucky to have Kaye at the helm this year, as our admiral and official ambassador," said Nancy Duling, president and CEO of Wichita Festivals. "Her years of service to WFI—and Wichita—well qualify her to host Kansas' largest community celebration."
An active community servant, Monk-Morgan has served on non-profit and corporate boards at the local, state, regional and national levels. She currently serves as a board member for NXTUS, a non-profit that catalyzes startup ecosystems, The African American Museum of Kansas and Emprise Bank. She is a trustee for the Wichita Land Bank, and an advisor to the Ulrich Museum at Wichita State University. Additionally, she is a life member of Alpha Kappa Alpha Sorority, Inc. A former board chair for Wichita Festivals, Monk-Morgan continues to volunteer for signature events like the Riverfest Gospelfest and is a supporter of Autumn and Art.
As the official ambassador of Riverfest 2023, Monk-Morgan will visit children in local hospitals, speak to Wichita civic organizations and help host dozens of events during the nine days of Riverfest, June 2-June 10. She will be assisted by the 2023 Prairie Schooner Mates, who were also present at today's event. These high school juniors are selected by their schools to be youth representatives for Riverfest.
"I am honored and thrilled to be selected as Admiral. I cannot wait to share with the entire community the excitement I have about the Riverfest and my deep-rooted love for Wichita. June 2 can't get here soon enough," said Monk-Morgan.
The tradition of Admiral Windwagon Smith was established in 1974, when John Bell first wore the red coat during the third Riverfest, then known as Wichitennial River Festival. Monk-Morgan is the 49th admiral, and she was introduced at North High School, Rochester Street, along with the Prairie Schooner Mates.
This year's Prairie Schooner Mates are:
Maha Almaliky-Heights
Eli Aziere-Independent
Tajzmarae Bowie-Bishop Carroll
Tycen Biering-Eisenhower
Lydia Daniel-East
Morgan Foos-Goddard
Elijah Gegan-Northwest
Tamya Gibson-Northeast Magnet
Jacob Heier Sedgwick
Jakob Kram-Pratt
Ellen Magaña-Kapaun Mt. Carmel
Rosie Mandala-Mulvane
Kylie Marier-Campus
Joshua Packard-Derby
Lindsay Reynolds-Andover
Cambree Ricks-Valley Center
Bianca Rivera-Maize South
Stu Robin-Kingman
Isabella Roland-Heights
Phoebe Ross-Collegiate
Sarah Roush-South
Rosa Salcido-West
Hannah Sharp-Circle
Collin Sheeran-Andover Central
Claire Taylor-Maize South
Nolan Tauer-Derby
Sandra Vazquez-North
Nathan Womack-Sunrise Christian Academy
Wichita Festivals, Inc. is a non-profit corporation with the purpose of creating diverse community celebrations within the Wichita community. The primary events produced by Wichita Festivals, Inc. are Riverfest (June 2-June 10, 2023), and Autumn & Art at Bradley Fair (September 15-17, 2023). For more information about Wichita Festivals, Inc. or its events, contact Jen Remsberg at (316) 267-2817 or jen@wichitafestivals.com.

###